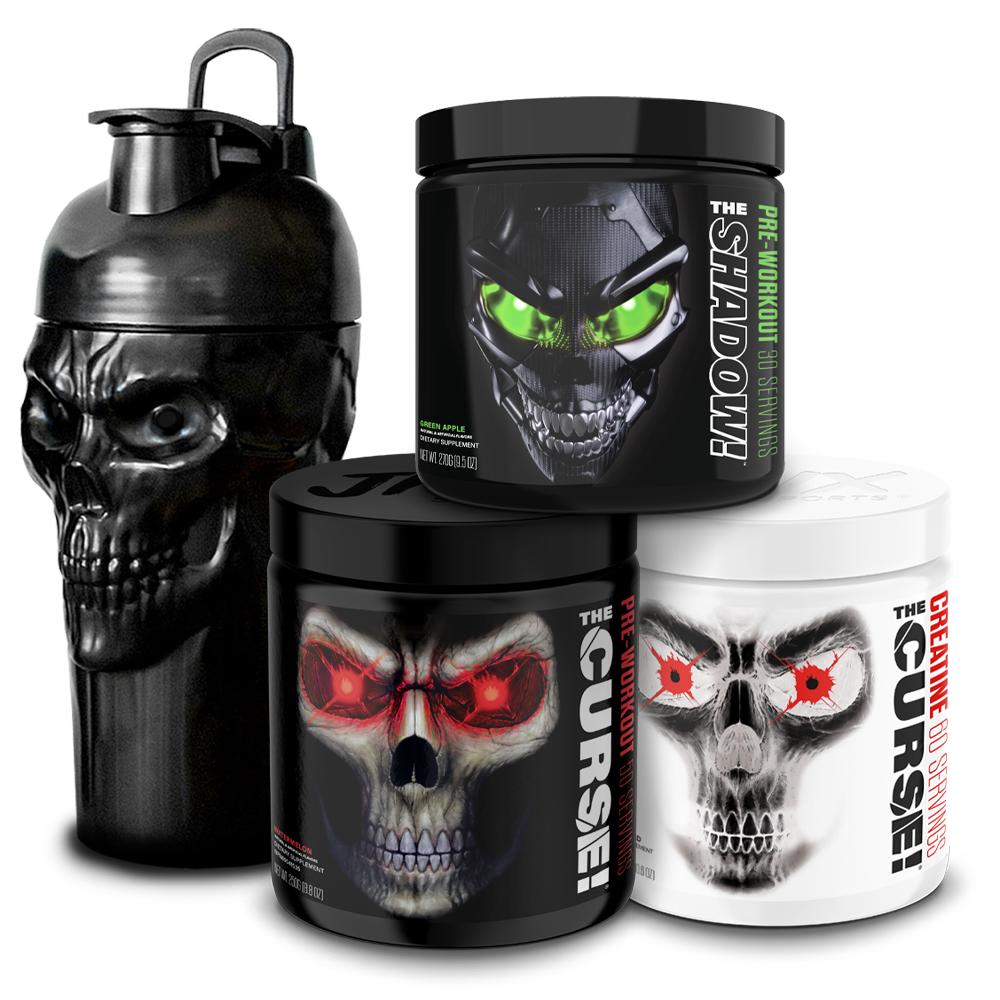 The Darkside! Pre-Workout Bundle
The Darkside!
Take your workout to places its never been before with the ultimate pre-workout bundle. You'll get:
Your choice of The Curse! tub
Your choice of The Shadow! tub
One tub of The Curse! Creatine
Our iconic The Curse! Skull Shaker in black
What's Inside
This epic bundle includes 1 bottle of each of the following:

The Curse! Pre-Workout
The Curse! just hits different with its unique Energizing Muscle Fuel Blend, Amplifier Blend, Mind Control Matrix, and tasty AF flavors. We're talking:

Energizing Muscle Fuel Blend with Creatine and Beta-Alanine to maximize exercise capacity and decrease muscle fatigue*
Amplifier Blend to support blood flow and increase muscle synthesis*
Mind Control Matrix to up the energy and promote tunnel vision mental focus*
Vegan Friendly
Gluten Free
Soy Free
Keto Friendly
50 servings per tub
Made in a GMP Compliant Facility 
Made in the USA from local and imported ingredients
The Curse! Pure Micronized Creatine 
One of the most popular and most studied sports supplements, creatine monohydrate has been shown to significantly increase muscle size, strength and power when combined with high-intensity activities.* The Curse!® Creatine contains no additives, no artificial colors and no artificial flavors and is:
Gluten free
Vegan friendly
GMP compliant
Made in the USA from local and imported ingredients
Clinically dosed
Clinically tested
The Shadow! Pre-Workout
The Shadow! is going to push you past your limits, keep you focused, and increase your capacity for exercise.* Plus it tastes epic AF.
Muscle Power Matrix (2000mg Beta Alanine, 1000mg Taurine, 750mg L-Leucine) for max power, improved performance and capacity for exercise.*
Muscle Pump Fusion (2000mg L-Citrulline, 600mg Betaine Anhydrous) to boost nitric oxide production, pump you up, and promote maximum strength.*
Mental Focus Mind Lock (500mg L-Tyrosine, 350mg Caffeine Anhydrous, 5mg Olive Leaf Extract) to deliver tunnel vision mental focus like you've never experienced before.* Legit, The Shadow! is going to keep you dialed. 
350mg of caffeine
Vegan friendly
Gluten Free
Soy Free
Keto Friendly
GMP Compliant
Made in the USA from local and imported ingredients